Aphrodite had her moments,
but the pin-up girls really immortalised the Feminine Form, capturing on paper such ephemeral yet timeless qualities – elegant yet voluptuous, insouciant yet coquettish. Long before Jennifer Lopez's derrière was famously insured, 1940's pin-up icon Betty Grable had Lloyds of London backing her legs for a million bucks. Beauty Helen of Troy may have been "the face that launched a thousand ships", but she had nothing on the pin-up girls, who sustained the morale of tens of thousands of American troops in World War II every time a young GI gazed upon the escapist fare inside his locker.
Viewing the pin-up girls evokes an era of skinny ties, a dirty martini and a dirtier sax. When beef was a staple, nobody wore seat belts and people smoked on TV. So reinvent glamour by reclining to our soundtrack of Va Va Voom, bathe in your martini glass and salute the feminine form in the way best way possible:
                     Bottom's up!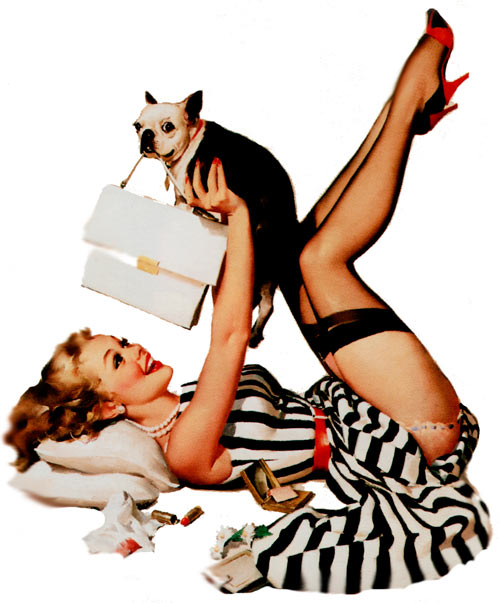 Varga Lounge
, rated as Hong Kong's must-experience bar by the New York Times, is inspired by America's 1950′s pin-up girls and drips nostalgia from the music to the decor and drinks. The stylish boutique venue, brimming with artwork, embraces maximalist decor – part swanky bachelor pad, part chinnoisiere, part bourdoir – and perfectly pairs retro music: 20′s swing, 50′s crooners, 60's garage, obscure 70′s disco, old school pop, Broadway show tunes, quirky lounge lizard. The large sofas and chairs recreate the intimacy and comfort of a home living room to revive of the art of conversation over cocktails and crooners in lush environs.
Varga consist of two floors with the upstairs perfect for private events, from hen nights to birthdays. The upstairs can hold 25 people and has its own private bathroom and sound system. The entire venue holds 70 people and can also be rented out.